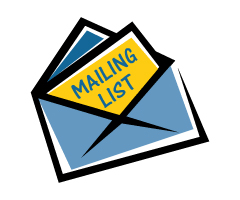 If you are a member of the TSARC, we want you to be a part of our mailing list(s).  You will be signed up for the TSARC Members Mail List when you become a member automatically.  These are  members-only mailing lists.  The email addresses that you share with us are NEVER shared with anyone, not even club members!  We will NEVER sell or otherwise convey your email address to anyone for any reason! 
Listed below are the Mailing Lists that we currently offer and a brief explanation of what the list is used for, what to expect to receive and roughly how often you can expect to receive emails from that list.  We will add any new lists here as soon we feel the need and you can sign up at any time.
Once you are subscribed to any TSARC Mail List, you will receive a welcome email that tells you:
Why you are being signed up to this particular list
A brief welcome statement
Instructions on how to post to the list
Instructions on how to unsubscribe (remove) yourself from the list
Instruction on how to get help and commands that you can use
A password to make changes to your list preferences
You will receive at a minimum a monthly email from the list that contains a new password.  You should keep that email and discard all previous ones that contain password information as they are no longer valid. You will need that password to make personal preference changes or unsubscribe (without conformation) from the list.
Currently Available Mailing Lists
Tri-States Amateur Radio Club Members Only List (You must be a current/valid member)

What is this list used for: Contact with TSARC  Members about club meetings, club events, club news and other club related activity.
How much email can you expect from this list: Likely no more than 4 or 5 emails per month on the average.
Want to be added to the TSARC Mailing List: Contact us here and let us know, you must be a current member.