Welcome to the home of W4GTA, the Tri-States Amateur Radio Club!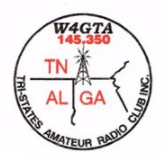 The Tri-States Amateur Radio Club is a widely-based group of amateur radio operators, primarily located in NW Georgia and surrounding areas, who gather together for camaraderie, fun and to further our hobby.  We enjoy all aspects and modes of Amateur Radio, Analog as well as Digital modes, from lower HF frequencies all the way up to frequencies you probably weren't even aware of!  All persons interested in learning about Amateur Radio are welcome to and to be a part of our meetings and/or events!  The TSARC also maintains a Facebook presence, our Facebook page is located here: https://www.facebook.com/tristatesarc/.  Contact Us here for more information or if there is any way that we can be of assistance to you.
---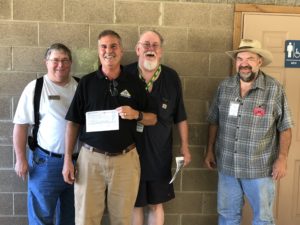 Congratulations to David Pond – (New Call coming) on his New Technician class license last night prior to the Club Meeting!  He aced the test with a perfect score, a round of applause for David!  David also joined the growing Tri-States ARC, becoming our newest member.
2018/06/23 & 2018/06/24 – ARRL Field Day, see below for more information.
2018/06/11 – Added information on new GA Hands Free Law to Documents page.
2018/06/14 – ARRL VE test sessions.  Get your Tech, General or Extra license!  Offered every 2nd Thursday of the month @ 1800 (6pm Eastern)
2018/06/14 – TSARC Club Meeting – Meets every 2nd Thursday of the month @ 1900 (7pm Eastern).
2018/06/12 – NW GA ARES Net – Every Tuesday evening @  1930 (7:30pm Eastern) on the 145.350 W4GTA Club Repeater (100.0 Hz tone required).  Join in on discussions ranging from Public Safety and Emergency Services to what happened in your neck of the woods over the last week.  You don't have to be an ARES Member to join, but we would sure like you to become one of us!
2018/06/11 – TSARC Club Net – Every Monday evening @ 1900 (7pm Eastern) on the 145.350 W4GTA Club Repeater (100.0 Hz tone required).  We're bringing the net back!  Join in for fun and camaraderie, the more the merrier!
2018/05/18 – Check out the new Coverage Maps page.  You can get a good idea of where you expect usable coverage and/or dead spots for our systems.
2018/05/10 – You should have been there!  Was a great class and well attended.  Good luck finding the Fox located in Chattanooga (It's on 146.060 and transmits 24/7)! – Fox Hunt Training Class –  Saturday, May 12th, 9 AM – Noon, CHI Memorial Community Room, 2525 Desales Ave, Chattanooga, TN 37404.  Sharpen your fox hunting skills and get ready for several days of fox hunting around town.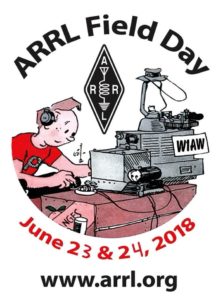 The Tri-States Amateur Radio Club and Walker County Amateur Radio Emergency Services are honored to have Field Day 2018 hosted by the community of Cedar Grove and their community center located at 5395 West Cove Road, Chickamauga, GA 30707.  Cedar Grove Community Center in beautiful McLemore Cove has stunning views and presents unique challenges to Field Day 2018 in that mountains surround McLemore Cove.  Field Day 2018 will be a challenge of the effectiveness of communications from one of Walker County's community emergency shelter sites.  We will offer VE Testing Sessions that will begin at 10am Saturday morning.  We plan to build an 80 meter High Frequency (HF) antenna on-site and will have a D-Star radio up for demo and use.  We'll also answer any D-Star, Fusion and/or DMR questions that you might have.
Dates: June 23-24, 2018
Times: 10am Saturday through 11am Sunday
Where: Cedar Grove Community Center in beautiful McLemore Cove
ARRL Field Day is the most popular on-the-air event held annually in the US and Canada (watch a brief PSA video here).  On the fourth weekend of June, more than 40,000 radio amateurs throughout North America gather with their clubs, groups or simply with friends to set up temporary transmitting stations in public places to demonstrate ham radio's science, skill and service to our communities and our nation.  It combines public service, emergency preparedness, community outreach, and technical skills all in a single event.  Field Day has been an annual event since 1933, and remains the most popular event in ham radio.
---
A Bit About Us

The TSARC owns and operates one of the amateur radio repeaters in the NW Georgia area.  Our W4GTA 2 meter repeater located high atop (2473′ ASL) Lookout Mountain in GA, operates on 145.350 (minus offset & a pl tone of 100.0 Hz) and is open to all properly licensed Amateur Radio Operators.  The W4GTA repeater has some of the best coverage in this area, it covers all of NW GA, South down toward Calhoun, West into Alabama as well as Chattanooga, TN and North.

If you would like to help support our efforts to maintain this repeater and it's coverage, think about joining the Tri-States Amateur Radio Club.  At only $18 per year, it costs less than 1/2 of a cheap cup of coffee per month!

Also, some of our members own, operate and maintain repeaters and other types of systems that are open for all properly licensed Amateur Radio Operators to use.  You can find out more about many of these systems by checking out our Repeater Listings.

Come try us out, we think you'll find what your looking for here!
The TSARC is an ARRL (American Radio Relay League) affiliated club and we encourage all of our members to become and remain ARRL members.  For more information visit the ARRL TSARC Club page.  We also offer ARRL Volunteer Examiners (VE's) to help you obtain your license.  We can test for Technician, General and Extra Class and generally offer a test session 1 hour prior to our Monthly Club Meeting. (Please Contact Us prior to the month you want to test so we can make sure that we can accommodate your needs.)

We are very good at communicating!  If you're having a public event where communications are important, we might be able to help.  Amateur Radio Operators assist in events such as bike races, triathlons, parades, large events and more.  All the practice we get from helping out, is preparing us for emergencies that we hope we'll never have to deal with.  Let us know if we can help by Contacting Us.
---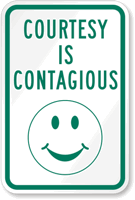 A brief note: The key to success on the air is described by one word: Courtesy. There's no other way to explain how hundreds of thousands of Amateur Radio Operators can share the same radio frequencies all over the world with minimum interference and conflict. If you keep courtesy at the front of your mind you'll rarely have difficulty on the air. An attentive and courteous operator is welcome on our systems!
With that said, what we really want is for YOU to have fun and enjoy this hobby!