Welcome to the home of W4GTA, the Tri-States Amateur Radio Club!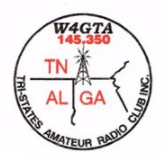 The Tri-States Amateur Radio Club is a widely-based group of amateur radio operators, primarily located in NW Georgia and surrounding areas, who gather together for camaraderie, fun and to further our hobby.  We enjoy all aspects and modes of Amateur Radio, Analog as well as Digital modes, from lower HF frequencies all the way up to frequencies you probably weren't even aware of!  All persons interested in learning about Amateur Radio are welcome to and to be a part of our meetings and/or events!  The TSARC also maintains a Facebook presence, our Facebook page is located here: https://www.facebook.com/tristatesarc/.  Contact Us for more information or if there is any way that we can be of assistance to you.
---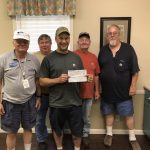 We had another great testing session, another new HAM!
Welcome to the fun and excitement of HAM radio, the world's greatest hobby!  Now that you've earned your license or upgrade, you probably can't wait to get on the air and make use of those privileges, and we'd like to do our part to help you get going.  If there is anything that we can do to help you get going, please don't hesitate to reach out to any club member, we want to hear you on the air!
Let's Welcome, Chad Church – Technician, KN4VRL to the wonderful world of HAM radio!
---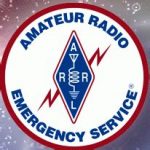 Join the Walker County ARES Net on a Simplex "hop around".
We'll be utilizing simplex on both 10 meters and 2 meters to hone our skills, as well as test our radios and antennas!  We'll start on the W4GTA 145.350 (100 Hz tone), and follow net control's directions from there.
July 30, 2019 @ 1930: 10 meter Simplex – 28.383, 28.414 & 28.444 (all USB).  This is open for Technician class licenses!
August 27, 2019 @ 1930: 2 meter Simplex – 146.535, 147.435 & 147.555
---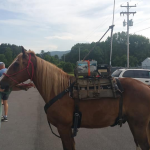 Field Day 2019 is in the books!
TSARC Field Day was held at the Cedar Grove Community Center in beautiful McLemore Cove (click the link for Google Maps).  The address is 5395 West Cove Road, Chickamauga, GA 30707.  We'll had 2 stations setup along with a GOTA station and a Yaesu FT-991A for folks to play on and make individual contacts!  This is a great location that presents us with unique challenges to Field Day operation.  Field Day setup started early Saturday morning (June 22) and officially started at 2PM and ran until 2PM Sunday June 23.  We also had Fusion, D-Star and DMR setup along with various Hotspots setup for show and tell, as well as allowing folks to get on the air via those and just get some hands on with digital radio!
We even had a 10 meter contact made in Maryland via an Equestrian Mobile station!  I'm willing to bet that we had the only one of those for a very large radius of our site, if not the only one!  We also had several HAMS working satellites!  And…  we had over 16 YL's attend, with most of them being licensed HAMS!  The food was unbelievable, there was pork BBQ, Ribs, a Low Crab Boil, so may sides and desserts that they can't be listed.. Oh, and a breakfast Sunday morning, Eggs, bacon, sausage, biscuits, plus so much more.. it was just an awesome time!
The event was open to the public and we had plenty of walk-ins as well as public officials come by and visit!  We also had walk-ins stop by that wanted to schedule license testing and we had multiple new club memberships!  We are putting pictures up in the TSARC 2019 Field Day Photo Album as fast as we can, if you have additional pics, send them to us at fieldday2019@tristatesarc.com.  To learn more about Filed Day, see the ARRL Field Day website.
---
2019/08/08 – TSARC Club Meeting – Meets every 2nd Thursday of the month @ 1900 (7pm Eastern).
2019/08/08 – ARRL VE test sessions.  Get your Tech, General or Extra license!  Every 2nd Thursday of the month @ 1800 (6pm Eastern)
2019/08/08 – Pre-Meeting Eating Meeting. Join us for a nice sit down dinner and Executive Board Meeting.  Every 2nd Thursday of the month @ 1700 (5pm Eastern)
2019/08/04 – TAG (TN/AL/GA) YL Net moves to the W4GTA 145.350 repeater, make them feel welcome!
2019/07/20 – Added information on new TN Hands Free Law to Documents page.
2019/06/22 & 06/23 – 2019 Field Day – Field Day will start June 22 at 10AM and run until 11AM Sunday June 23.  See above for more info.
2019/05/10 – Updated TSARC Rules of Conduct.  Please familiarize yourself with these "common sense" rules!
2019/03/08 – Join the new TAG Digital Voice Nets on Wednesday nights!  1930, Fusion Wires-X – 2000, D-Star & 2030 DMR.  See LMARC for more details.
2019/05/06 – YouTube videos to learn all about Fusion and the new PDN modes, presented by Yaesu.  Tons of great info!
2019/03/12 – Join in on the 10 meter fun with the Walker Cty ARES Group, Tuesday, 7:30pm on the W4GTA 145.350.  NC will lead from there.
2019/02/01 – SKYWARN Spotter Training Class – You MUST register (see link to left).  See here for the SkyWarn Weather Spotters Filed Guide.
2018/12/26 – We now accept Paypal online for new and renewal Memberships as well as tax deductible Donations!
2018/12/26 – 287 Wire Antennas for HAMs is available!  Check out this document, amazing content, diagrams and more in our files section.
2018/12/19 – TSARC Christmas Dinner pictures have been uploaded!  If you have more, send them to w4edp AT tristatesarc DOT com.
2018/12/14 – TSARC Christmas Dinner and Club Meeting.  This replaces the regular meeting.  Board Officer voting & Election.
2018/10/20 – Chattanooga Area HAMFest – Saturday, October 20, 2018, Hours:  8 AM – 2 PM EDT, FCC Testing Session, 8:30 AM
2018/09/17 – The Cherokee Capital Amateur Radio Society would like to invite you all to our Monday September 17, 2018 meeting at 7pm. John Kludt K4SQC will be making a presentation on satellite contacting. We think you will find this informative and exciting. Our meeting is held at the Gordon County Agricultural Service 1282 GA-53 Spur Calhoun Georgia 30701 Our meeting starts at 7pm and snacks and refreshments will be served. Hope to see you all there, and look forward to getting to know you all better.
2018/08/09 – Come join us for an evening of D-Star "101".  We'll have radios, hotspots, & computers setup so that you can learn and put hands on!
2018/06/11 – Added information on new GA Hands Free Law to Documents page.
2018/06/11 – Check out the new Coverage Maps page.  You can get a good idea of where you expect usable coverage and/or dead spots for our systems.
---
Wednesday evenings beginning at 7:30 PM Eastern on the N4LMC Digital Systems
TAG Digital Nets: TAG (which stands for TN, AL GA) are held each Wednesday night for Fusion/C4FM and D-Star.  These are digital only nets and they are off to a great start!   The TAG Fusion net is held on Wednesday nights from 7:30 – 8:30 PM Eastern time.  The TAG D-Star net follows starting at 8:30 and running until 9:30 PM Eastern time.  The TAG DMR net has been combined with the TDARG (TN Digital Amateur Radio Group) and is held on Friday nights at 9:00 PM.  See below for connection information and check out our Nets page for more information, days and times.
Join the conversation on the TAG Fusion Net by using one of the following methods:
Wires-X N4LMC X 442.650 – located atop Lookout Mountain
Wires-X N4LMC 442.725 – located atop Signal Mountain
Wires-X W4DRC 443.000 – located in Dalton, GA
Wires-X (in digital operation only), you may connect to Room 43389
YSF Room "US SOUTHEASTLINK", Room # 95984
D-Star XREF N4LMC-C 145.160 – located atop Lookout Mountain
D-Star XREF W4RRG-B 444.725 – located atop Signal Mountain
D-Star XReflector system XRF205-D, XLX205-D, DCS205-D and XRF139-A
DMR via the TGIF Network, TalkGroup SOUTHEAST-LINK #43389
Join the conversation on the TAG D-Star Net by using one of the following methods:
D-Star XREF N4LMC-C 145.160 – located atop Lookout Mountain
D-Star XREF W4RRG-B 444.725 – located atop Signal Mountain
D-Star DPLus KA4RVT-C 145.330 – located in Dalton, GA
D-Plus Reflector REF030A
XReflector XRF139-A
Join the conversation on the TN DARG DMR Net by using one of the following methods:
DMR N4LMC 444.7125 Brandmeister TG3147 TS2 – located atop Lookout Mountain
DMR W4PL 444.150 Brandmeister TG3147 TS2 – located atop Signal Mountain
Brandmeister Talkgroup 3147
See LMARC's Net page for information on all the nets that our systems carry that you can join in on.  Join in on these nets, they won't exist without participation and interest.  Many of these nets are also looking for Net Control persons and Alternate Net Control persons!
---
A Bit About Us
The TSARC owns and operates one of the amateur radio repeaters in the NW Georgia area.  Our W4GTA 2 meter repeater located high atop (2473′ ASL) Lookout Mountain in GA, operates on 145.350 (minus offset & a pl tone of 100.0 Hz) and is open to all properly licensed Amateur Radio Operators.  The W4GTA repeater has some of the best coverage in this area, it covers all of NW GA, South down toward Calhoun, West into Alabama as well as Chattanooga, TN and North.

If you would like to help support our efforts to maintain this repeater and it's coverage, think about joining the Tri-States Amateur Radio Club.  At only $20 per year, it costs less than 1/3 of a cheap cup of coffee per month!

Also, some of our members own, operate and maintain repeaters and other types of systems that are open for all properly licensed Amateur Radio Operators to use.  You can find out more about many of these systems by checking out our Repeater Listings.

Come try us out, we think you'll find what your looking for here!
The TSARC is an ARRL (American Radio Relay League) affiliated club and we encourage all of our members to become and remain ARRL members.  For more information visit the ARRL TSARC Club page.  We also offer ARRL Volunteer Examiners (VE's) to help you obtain your license.  We can test for Technician, General and Extra Class and generally offer a test session 1 hour prior to our Monthly Club Meeting. (Please Contact Us prior to the month you want to test so we can make sure that we can accommodate your needs.)

We are very good at communicating!  If you're having a public event where communications are important, we might be able to help.  Amateur Radio Operators assist in events such as bike races, triathlons, parades, large events and more.  All the practice we get from helping out, is preparing us for emergencies that we hope we'll never have to deal with.  Let us know if we can help by Contacting Us.
---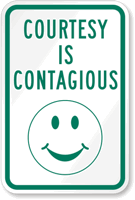 A brief note: The key to success on the air is described by one word: Courtesy. There's no other way to explain how hundreds of thousands of Amateur Radio Operators can share the same radio frequencies all over the world with minimum interference and conflict. If you keep courtesy at the front of your mind you'll rarely have difficulty on the air. An attentive and courteous operator is welcome on our systems, It's not the class of license the amateur holds, it's the class of the amateur who holds the license"!
With that said, what we really want is for YOU to have fun and enjoy this hobby!