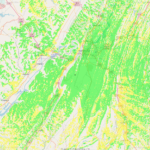 I hesitate to do this, but I will give it a try.  These are Coverage Maps for our systems as well as systems that we do not own but help maintain and are here for reference only.  Do not contact me because your coverage varies.
There are so many factors that can affect coverage.  Some, but not all by a long shot are: how sensitive your radios receiver is, how broad your radios front end is, how good is your antenna and how well is it matched to your radio, terrain where you & your radio are right now, Mother Nature (leaves hold moisture, high moisture content means less RF), and many more factors.  Sometimes you can literally move an inch and it makes the difference between being able to use a frequency and not being able to.
You will see two maps per system.  The 1st map is a "close up" of the coverage area, the 2nd map is a "birds eye" view of the coverage area.
---
| System Frequency | System Type | System Location | Close Up View Map | Birds Eye View Map |
| --- | --- | --- | --- | --- |
| 145.350 | W4GTA - Fusion Repeater | Lookout Mtn, South End | Close Up | Birds Eye |
| System Frequency | System Type | System Location | Close Up View Map | Birds Eye View Map |