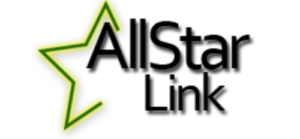 The AllStar Link network consists of a number of large (and small) individuals and groups who wish to provide efficient large-area communications to the Amateur Radio public in their respective local areas. This is done by providing a local VHF or UHF repeater system controlled by a Linux-based computer system running the open-source Asterisk PBX telephone switch platform along with the app_rpt repeater/remote base controller/linking software module (which is included in the distribution of Asterisk) connected to a high speed (broadband, such as Cable Modem or DSL) Internet connection.
AllStar Link is an organization devoted to the proliferation of this technology, and to organize its public use. Certainly, anyone can have a "private" system using this technology, and they would have no need for AllStar Link affiliation, but there needs to be a single, central point of organization for public use of this technology, and that's what AllStar Link provides.
Unlike other Radio-centric VOIP technologies, such as Echolink or IRLP, etc, Allstar and the app_rpt/Asterisk technology have been specifically designed to be part of, and to link together parts of the very infrastructure of the radio systems that it implements, as opposed to be an end-to-end protocol like others.
Allstar nodes linked to W4GTA (Provided by W4EDP), Information and Tips:
145.350 N4LMC – CTCSS tone of 100.0, Node #46331.  Located atop Lookout Mtn providing a wide coverage area.  Also broadcasts NWS alerts for Walker county in GA.
224.560 N4LMC – CTCSS tone of 146.2, Node #46530. Located atop Lookout Mtn providing wide area coverage.  Normally linked to the W4GTA 145.350 repeater.  Also broadcasts NWS alerts for Walker & Dade counties in GA.
There are also other nodes (46077, 46292, 510131 and others) that provide specific functionality such as hubs and/or links.
PLEASE NOTE: In the event that the systems are linked to special events or weather events, DO NOT unlink or change the links during these events!
The commands for the N4LMC Allstar systems are as follows:
(<NodeNumber> means enter a valid node number)
#*1 <NodeNumber> - Disconnect Node
#*2 <NodeNumber> - Connect Node in Monitor/Receive only mode
#*3 <NodeNumber> - Connect node in full transceive mode
#*70 - Get node status
#*76 - Disconnect all nodes that are currently connected
#*77 - Reconnect all nodes that were previously disconnected
#*80 - Make the node ID
#*81 - Say time of day
Remember, the system may be linked to more than you realize. Other nodes can be linked to us and those nodes as well as other nodes downstream from them can be linked… and so forth. You can see who/what is linked online by going to http://stats.allstarlink.org/nodeinfo.cgi?node=46145. If you want to look at the full list of connections, click on the "Click here for Bubble Chart" link at top left of page. NOTE the direction of arrows between nodes, if the arrow is present on both ends of the link between nodes, it's a a full transcieve link, if the arrow is present on only one end of the link between nodes, it's a a receive only/monitor link. See the examples in the graphics below.
Please always feel free to use the nodes as you wish, how ever, please also always be courteous to others. Check and see what is connected, make sure someone isn't using the node, feel free to disconnect and connect what ever you want, but when you're done… put it back like you found it.
If you have any questions, feel free to email me and I'll answer them the best I can.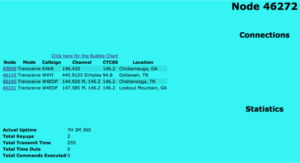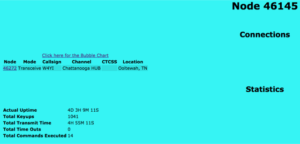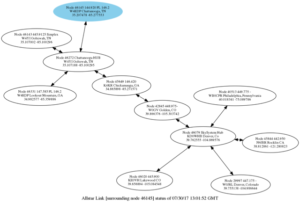 Links for status pages: