ARES, SkyWarn and Emergency Services

ARES or Amateur Radio Emergency Services, is Amateur radio operators use their training, skills, and equipment to provide communications during emergencies When All Else Fails®.  Hams serve our communities when storms or other disasters damage critical communication infrastructure, including cell towers, and wired and wireless networks. Amateur radio can function completely independently of the internet and phone systems.  An amateur radio station can be set up almost anywhere in minutes.  Hams can quickly raise a wire antenna in a tree or on a mast, connect it to a radio and power source, and communicate effectively with others.
ARES membership requirements are roughly the same in any given geographic area.  Since our club is based in Georgia, that is what we will speak to here.  The Walker county GA ARES net is held every Tuesday evening at 1930 eastern time on the W4GTA 145.350 (minus offset / 100.0hz tone) repeater.  It is also available on the N4LMC 146.640 (minus offset / 146.2 tone) repeater, as well as Allstar #46331, Echolink #9058, Amateur Wire ext 90013, HAMs Over IP ext 15014 and Hamshack Hotline ext 94013.
Every licensed amateur, regardless of membership in ARRL or any other local or national organization is eligible to apply for membership in ARES.  Training may be required or desired to participate fully in ARES.  Please inquire at the local level for specific information.  Because ARES is an Amateur Radio program, only licensed radio amateurs are eligible for membership.  The possession of emergency-powered equipment is desirable, but is not a requirement for membership.  Click the link above for the GA ARES website.
Other ARES nets for various surrounding GA counties are as follows:
Catoosa County, GA – Thursday at 1930 eastern time on the W4GTA 145.350 (minus offset / 100.0hz tone) repeater and are also available on the N4LMC 146.640 (minus offset / 146.2 tone) repeater, as well as Allstar #46331, Echolink #9058, Amateur Wire ext 90013, HAMs Over IP ext 15014 and Hamshack Hotline ext 94013.
Chattooga County, GA – Thursday at 1730 eastern time on the KK4QWH 147.225 (plus offset / 100.0hz tone) repeater.
Dade County, GA – Thursday at 2000 eastern time on the K4SOD 146.760 (minus offset / 141.3hz tone) repeater.
Whitfield / Murray County, GA – Thursday at 2100 eastern time on the N4BZJ 147.135 (minus offset / 141.3hz tone) repeater and are also available on the N4LMC 146.640 (minus offset / 146.2 tone) repeater, as well as Allstar #510135, Echolink #780688, Amateur Wire ext 90015, HAMs Over IP ext 15022 and Hamshack Hotline ext 94145.
---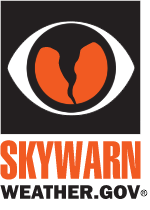 In most years, thunderstorms, tornadoes and lightning cause hundreds of injuries and deaths and billions in property and crop damages.  To obtain critical weather information, the National Weather Service (NWS) established SKYWARN with partner organizations.  SKYWARN is a volunteer program with between 350,000 and 400,000 trained severe weather spotters.  These volunteers help keep their local communities safe by providing timely and accurate reports of severe weather to the National Weather Service.
Although SKYWARN spotters provide essential information for all types of weather hazards, the focus is reporting on severe local thunderstorms.  In an average year, the United States experiences more than 10,000 severe thunderstorms, 5,000 floods and more than 1,000 tornadoes.
Skywarn nets are created as the weather warrants.  Skywarn nets are held on the W4GTA 145.350 (minus offset / 100.0hz tone) repeater and are also available on the N4LMC 146.640 (minus offset / 146.2 tone) repeater, as well as Echolink #9058, Allstar #46331, HAMs Over IP ext 15014 and Hamshack Hotline ext 94013.
Who is eligible and how do I get started?
NWS encourages anyone with an interest in public service to join the SKYWARN program. Volunteers include police and fire personnel, dispatchers, EMS workers, public utility workers and other concerned private citizens. Individuals affiliated with hospitals, schools, churches and nursing homes or who have a responsibility for protecting others are encouraged to become a spotter. Ready to learn more? Find a class in your area. Training is free and typically lasts about 2 hours. You'll learn:
Basics of thunderstorm development
Fundamentals of storm structure
Identifying potential severe weather features
Information to report
How to report information
Basic severe weather safety
Condition Alert Meanings
Condition Yellow: is standby status: severe weather is possible
Condition Orange: is active status: severe weather is present
Condition Red: is emergency status: state of emergency
---
DO NOT ASSUME OTHERS HAVE ALREADY REPORTED THE SEVERE WEATHER YOU ARE SEEING!   REPORT IT!
Net Activations—Informational, Informal, Formal
Every effort is made to avoid interfering with QSO's & nets on repeaters.  You may hear periodic NWS warning or advisory announcements. This does not mean the system is in a net mode.  If an informational, informal, or formal net is activated, it will be announced periodically. If you aren't sure, simply call out and ask.
Informational, no net is yet activated. NWS announcements air as needed and there may be weather conversations.  The repeaters operate normally.  Upon actual SkyWarn net activation, the net may be set to an informal or a directed net.
Informal Nets are most common.  A Net Coordinator will be present.  The net is open for all weather use and station-to-station traffic.  We ask that you keep transmissions short so that net control can break in if / when needed.  Severe announcements take place, along with heads-ups on developments, and periodic conversations about events. Leave at least 3-5 seconds between transmissions for priority traffic to break in.  End each transmission with your callsign.
Formal, Directed Nets are used during significant, widespread severe weather.  During directed nets, all communications must be passed through the Net Control Station. Traffic will usually be limited to priority and severe reports, severe observations, and Warnings information.
Always adhere to guidance from Network Control or NC. All amateur radio operators across the Georgia, Tennessee and Alabama area are encouraged to participate.  Ask questions, report observations, and further your understanding of severe weather.
Severe Weather Net Operating Procedure
When checking in to a net, please do the following:
Clearly state your callsign twice, at least once using standard ITU phonetics.
NWS Spotter Number if you have one.
Location—current and anticipated.
Clear every transmission with your callsign.
Allow 3-5 seconds between transmissions for priority to break-in.
Advise net control of all location changes.
Net control may come back with needed clarification and / or questions, be ready!
ALWAYS advise net control when you are checking out of the net, arriving at home, or QRT!
Reporting Criteria
Net Control is your guide as to what or what not to report.  This depends on severe the storm and scope, magnitude, and the amount of traffic in the area.  Usually, reports are limited to NWS Severe Thresholds.  Listen carefully to Net Control for guidance. Too many non-severe reports can unnecessarily overload communications.
YOUR REPORT MUST INCLUDE:
Event 'Name' (e.g., Hail, Rotating Wall Cloud, Funnel Cloud, Straight-line Wind)
Current location
Event Location, (advise if estimated) e.g., street / road intersections, mile markers, miles & direction from a known locality
County and state in which event is located, this is VERY important
Description—brief but concise, lose adjectives whenever possible
Clear with your callsign and wait to confirm acknowledgement from the net control.
Sometimes, criteria may be modified by NWS based on need.  NWS may want hail reports to as small as 1/4" including fall field depth, instead of the usual size of 0.75" and larger.
What to Report to Severe Weather Net Control
Gather your thoughts. When in doubt, wait and observe for another few moments
Tornadoes, high wind gusts or high sustained winds — confirm that a tornado formation is on the ground
Funnel cloud/condensation funnel, look carefully at surface for dust/debris
Wall Clouds may be very slowly rotating. Should be attached to cloud base in or near the clear slot, away from rain shaft. Scud—ragged clouds detached from the storm base—are tricky. If they're very near or under a wall cloud, then watch closely and we need to discuss because they may be part of a somewhat invisible, possibly weak, rotation.
Micro & Macro (large) downbursts, look for rain/dust spreading away at surface
Damaging straight-line winds blowing down trees and power lines, damaging buildings (see wind speed estimation below). Handheld anemometer measurements are best.
Hail, usually 0.75" largest side (1"+ is severe) (see hail reporting graphic below)
Rain Rates, 1"/hr urban, 1.5"/hr rural
Flooding of rivers, creeks, drainages, homes, buildings, roadways
Whiteout snow conditions with visibility less than 0.5 miles
In the case of roadway flooding that is a danger to traffic, first call 911.  Then, report the heads-up to net control, clearly stating that you have reported to 911. Net control will relay the heads-up to NWS.  Some NWS offices want road flooding reported only to emergency management which, in turn, relays the report to them.
Participants are encouraged to share reports of the severity they're observing.  However, exclude reports such as 'light rain' or 'it's clear here' unless called for.  Always be ready to give an estimate of direction and distance of the event from your location.  If you're uncertain of the severity, please state that to net control.
What to Report to 911
Traffic accidents due to severe weather
Dangerous road conditions due to severe weather, including flooding.  Let net control  know afterward, clearly stating that you have already reported this to 911
Structural damage due to severe weather
Downed power lines and poles anywhere
Any life threatening event
---
General Severe Warnings, Thresholds and Measurements
Blizzard: winds sustained 35+mph, or frequent gusts to 35+; blowing snow and visibility <1/4mi, all for 3 or more hours.
Flash Flood: Short duration (usually <6hrs), sudden, intense flooding.
Flood or Areal Flood: Longer (often many hrs), more gradual flooding after excessive rainfall or snowmelt; usually prolonged river/stream flooding.
Funnel Cloud: Tightly rotating column of air attached to a thunderstorm but NOT in contact with ground.  Requires careful observation of surface beneath, since may be invisible near surface.  Normally prompts Warning.
Heavy rain: reportable at 1" per hour or greater.  Often coupled with thunderstorm parameters above to define severe.
High Straight-line Wind: sustained at 50+mph for 1+ hrs, or gusts at 58+mph for any duration.
Ice Storm: any freezing rain event.
Red Flag: Critical fuels paired with winds (sustained or gusting) >25mph with humidity <15% or critical fuels paired with widely scattered dry thunderstorms.  Often initiates a Dry Thunderstorm Fire Risk advisory.
Severe Thunderstorm: hail 1" or greater with winds 58mph or greater.
Snow Squall: Visibility 1/4mi or less with sub-freezing road temperatures or flash-freezing with significant reduction in visibility from falling and/or blowing snow.
Tornado: Tightly rotating column of air attached to a thunderstorm cloud AND in contact with the ground.
Wind Speed Estimation
Less than 1 mph – Smoke rises vertically
1-3 mph – Light Air Movement – Smoke drift indicates wind direction, still wind vanes
4-7 mph – Light Breeze – Wind felt on face, leaves rustle, vanes begin to move
8-12 mph – Leaves and small twigs constantly moving, light flags extended
13-18 mph – Moderate Breeze – Dust, leaves, loose paper lifted, small branches move
19-24 mph – Fresh Breeze – Small trees in leaf begin to sway
25-31 mph – Strong Breeze – Larger tree branches moving, whistling in wires
32-38 mph – Near Gale – Whole trees moving, resistance felt walking against wind
39-46 mph – Gale – Twigs breaking off trees, generally impedes progress
47-54 mph – Strong Gale – Slight structural damage; shingles may lift off roofs
55-63 mph – Storm force – Trees broken or uprooted, considerable structural damage
58+ mph (60 knots) is severe threshold
64-72+ mph – Violent storm force – Widespread tree and structural damage
Hail Measurement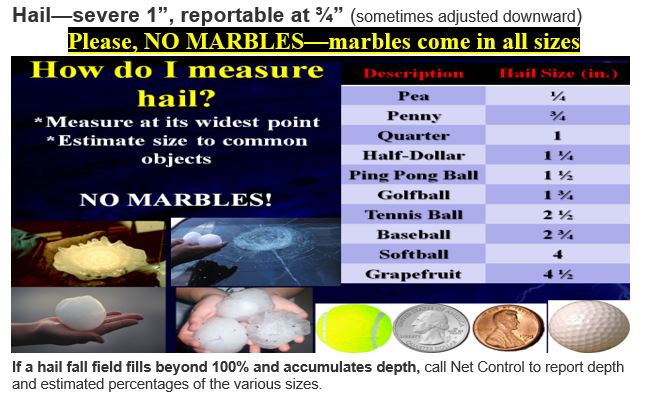 Snow Measurement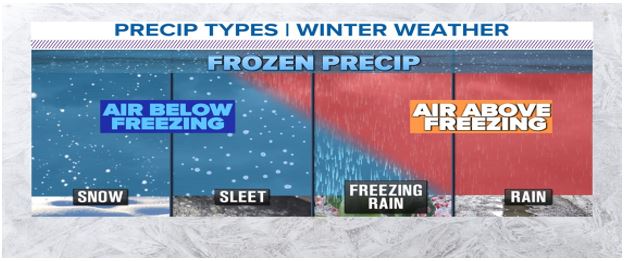 Some things you should keep in mind when measuring snow:
NWS appreciates liquid equivalent in addition to accumulated depth.
Can easily be accomplished with a 4" diameter, 14" tall rain/snow gauge.
Available from a variety of sources including CoCoRaHS.org.
Measure snow depth in a location where scouring or drifting has not occurred
Sheltered areas close to buildings, near or under trees should be avoided
Make sure you're measuring on a flat surface if you don't have a snow board
Things like picnic tables and decks work well.  If you don't have that option, measure on a flat portion of your yard away from buildings
Take 5 measurements, add them, and divide by 5 to get an accurate average
---